Bluesky Builders Gel 30g 03 CLEAR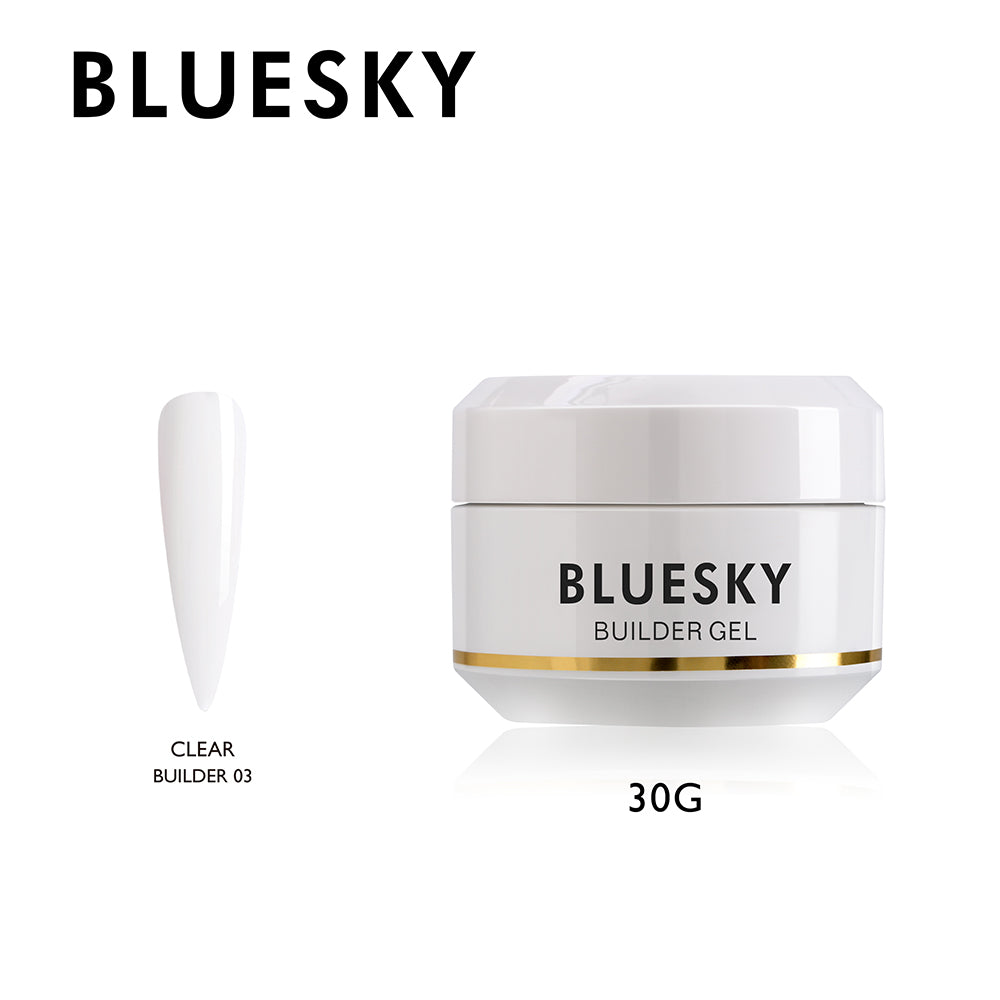 The most professional choice for nail extensions. The Bluesky Buillder Gel is a complete solution for bonding, building and sealing – designed for nail technicians who want to create strong, beautiful, curvaceous nails.
The gel will let the colour of the natural nail and tip shine through with an extra-glossy finish.
Quick Facts
Complete solution for binding, building and sealing
Overlay over a natural nail or extension tip
Lets the colour of the natural nail shine through
Extra glossy finish
LED/UV lamp require to cure
Vegan formula
Cruelty free
This product must be used within 12 months of opening
Disclaimer - All reasonable efforts have been made to ensure that ingredient listings, product images and other information for products displayed on this website are up to date, accurate and complete. Product images are intended as a guide only and are not intended to provide a perfect match to the actual product colour. It is recommended that you view and test products that you are unfamiliar with in person in one of our stores and not attempt to colour match off the screen. Please refer to the ingredients list on your product package for the most up to date list of ingredients to ensure it is suitable for your personal use.
Bis-Hema poly (I ,4-Butanediol Adipate)/IPDI Copolymer, HEMA, Isobornyl Methacrylate, Hydroxycyclohexyl Phenyl Ketone, Trimethylbenzoyl Diphenylphosphine Oxide. May Contain [+/-]: Cl 77891 , Cl77491, Cl77510, Cl77289, Cl77492, Cl77266, CI77742
• Prep your nails, file, buff and trim cuticles
• Apply Bluesky base coat to all nails and cure for 60s LED/ 2mins UV lamp
• Apply nail forms under nail tips and secure
• Use a nail brush to apply the first layer of builder gel onto the end of the nail tip, cure for 60s LED/ 2mins UV lamp
• Apply second layer of builder gel and cure again (60s LED/ 2mins UV lamp)
• Remove the nail form
• Buff, file and dust nails to desired length and shape
• Wipe each nail with Bluesky cleanser wipes
• Apply a thin layer of Bluesky gel top coat
• Cure for 60 seconds LED, Or 2 minutes UV
• Wipe over with Bluesky cleanser wipe to remove sticky layer