Swisspers Facial Wipes ORIGINAL Twin 2x 25pack
---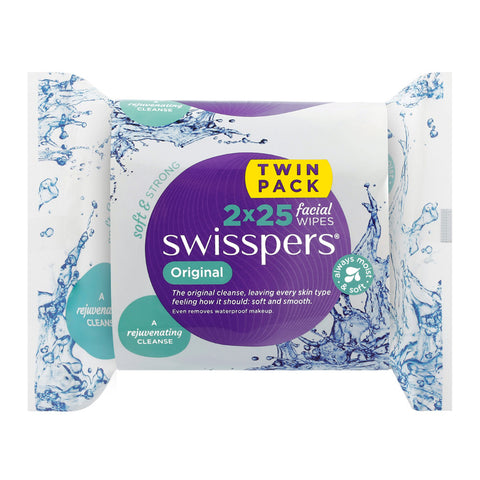 The original cleanse, leaving every skin type feeling how it should; soft and smooth.
Cleanse and moisturise your skin in one easy wipe. Removes the most stubborn makeup; we're talking waterproof mascara level.
How to use:
Hold softly over your face for a moment then gently wipe away makeup & impurities.
Expert Tips:
Make the most of your cleansing moment: hold the wipe softly over your face, take a slow, deep breath in and then slowly breath out, allowing your shoulders and neck to relax. Repeat, enjoying the aroma of the wipe, then gently wipe away makeup, disposing in the rubbish bin.
Ingredients:
Aqua, Glycerin, Propylene Glycol, Phenoxyethanol, Cetearyl Isononanoate, Cetyl Palmitate, Glyceryl Stearate, Ceteareth-20, Cetearyl Alcohol, Ceteareth-12, Polysorbate 20, Benzoic Acid, Desodium EDTA, Parfum, Dehydroacetic Acid, Sodium Citrate.
Related Products
---